Netprofile was awarded in the PR Agency Citizenship category of the internationally renowned SABRE Awards. The award was a recognition of societally significant pro bono PR work.

Netprofile and Someturva share a common concern in working against bullying and harassment in social media. Netprofile has advised Someturva at various stages of their growth and development. In late 2018 / early 2019 the companies started a social media campaign which was specially targeted at helping young people who had been bullied or harassed in the internet.
The results were outstanding. During the campaign, Someturva managed to prevent as much as 9% of harassment incidents from escalating into serious crimes. The number of severe internet sex offences is unbelievably high and growing. Therefore, every young person who gets timely help in their predicament is a significant win for humanity.

"We seldom get a chance to actually save lives in our line of work. This campaign was not only about reaching a target group. Hundreds of young people received timely expert advice to help them deal with cyberbullying and harassment. This award for our pro bono work touches a special place in my heart. I hope that more and more people become aware of the severity of cyberbullying. It is everyone's responsibility to protect especially the children and youth from predators in the internet," says Netprofile's partner Christina Forsgård.
Someturva is an AI-based Finnish security service aimed at social media users. It provides 24/7 help for people who are bullied, threatened, or harassed in social media. The service was founded by Finnish experts in law, technology, and social psychology.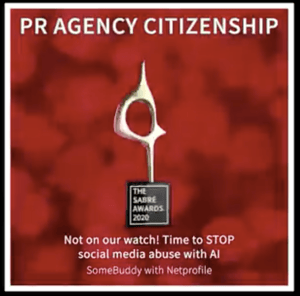 For more information:
Christina Forsgård, Partner, President (Netprofile)
Tel +358 40 571 9192
christina@netprofile.fi
Suvi Uski, CEO, Founder (Someturva)
Tel +358 45 634 2709
suvi.uski@someturva.fi