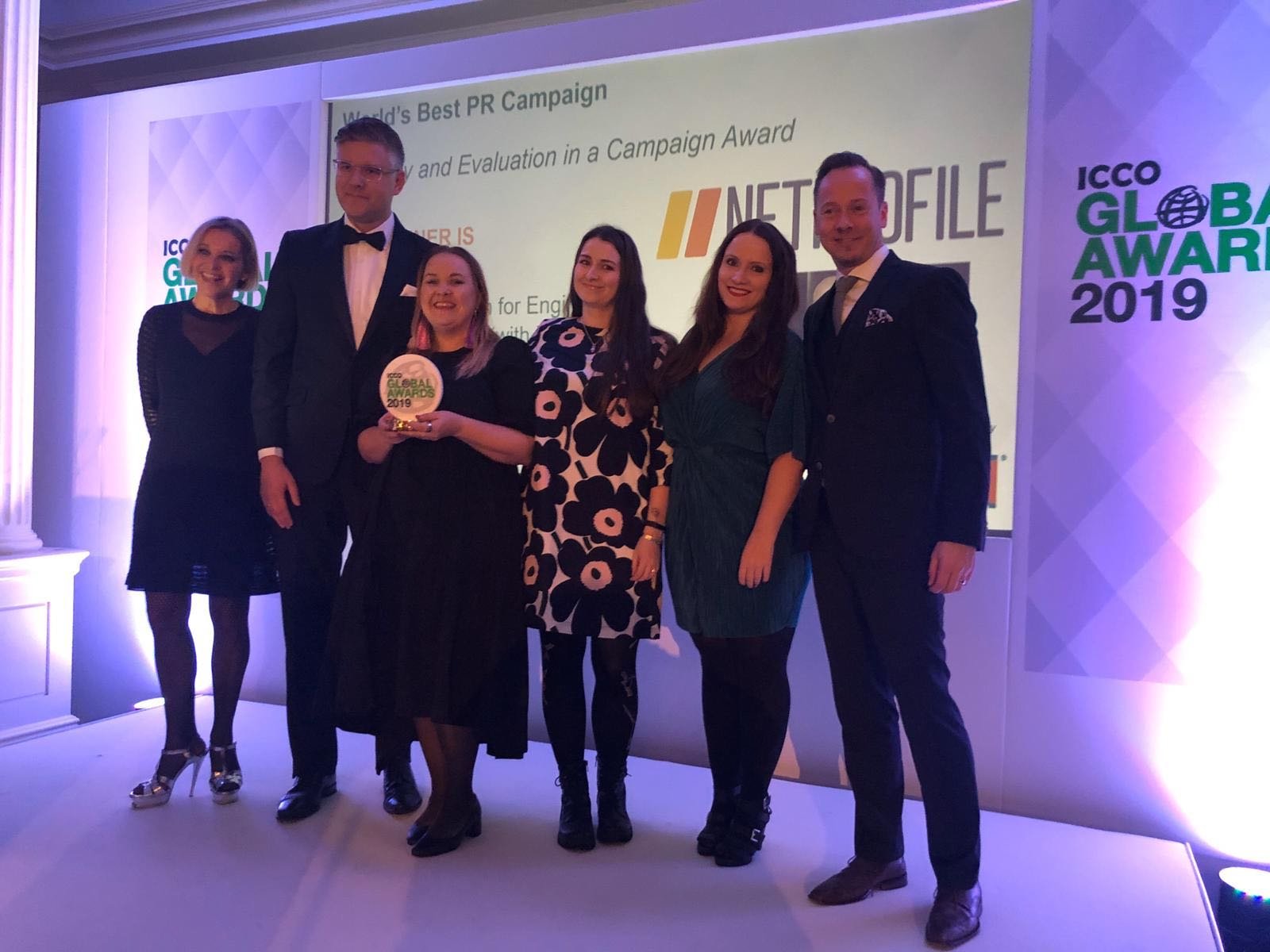 The atmosphere was festive in London when International Communications Consultancy Organisation ICCO awarded the winners of the annual ICCO Global Awards. Netprofile and our clients were nominated as the world's best PR campaign in five categories and won in two.

Netprofile, a Finnish marketing communications agency specialized in technology companies, won in two ICCO Global Awards categories together with Nitor, a digital engineering company. Netprofile's and Nitor's global excellence was awarded in the categories of Strategy and Evaluation in a Campaign and Digital and New Media.
The jury of ICCO Global Awards also shortlisted Netprofile's works for DNA, Someturva, and Taloyhtiö.info.

Nitor's successful recruitment campaign S.E.D.I (Search for Engineer's Digital Intelligence) was based on the idea that an engineer looking for one's next workplace could try out before actual recruitment how they fit with their potential new team and workplace.

The campaign gained traction in a very demanding target group of competent and experienced programmers. So far, the campaign has resulted in more than 1 000 job applications and several hired top talents for Nitor. Netprofile made the campaign in co-operation with advertising agency Tehtaankatu and video production company Pablo Films.
Nitor's S.E.D.I campaign was also awarded in spring 2019 at Finnish Comms Awards. Also, Digital Communications Awards and Rekrygaala shortlisted S.E.D.I as a finalist.

"World's best communications campaigns are not the largest but the most exceptional, international, and influential. Finnish Netprofile has triumphed in PR and communications assessments on a global scale, which is a clear sign of Netprofile's long-term investment in first-class strategic skills and effective implementation, says Rob Morbin, CEO of ICCO.

"The pace of marketing communications is inevitably global and thriving in this challenging environment requires ambitious targets. These recognitions from the global community of communications agencies send a message that Finnish creativity, expertise, and persistence guarantee our success in all leagues," says Juha Frey, CEO of Netprofile.